One of the most fun parts of working with a client is building plans to make their vision become a reality. Of course building the video in exciting, but I still like to nerd out over the details. Over the years, I've found that preparedness pays off. Sounds like a given, right? Unfortunately, there are plenty of times when I've run into clients who are blown away when I deliver detailed shoot outlines. Sigh.
No matter what, though, I work hard to develop documents that explain our process, outline potential roadblocks, and provide clear examples of our direction. As I've been working toward a video for a new client, I thought it would be valuable to write a blog post about it here. Please note that is it not a complete document. I've removed and redacted some information and even whole pages. This post is meant to give you an overview of some things to think about, but it is far from a complete project outline. Moreover, this outline is not necessarily in an exact order; sometimes different sections get filled in at different times; sometimes new discoveries alter other sections; I like to keep it fluid and make appropriate changes when it's worthwhile.
When I onboard a new client, I want to start by understanding who they are, what story they want to tell, and how we can make that possible with their budget. I can't stress it enough, budget is important. Sometimes the client wants the world, and we'd love to give it to them, but if the budget isn't there, we have to be crafty about collecting the assets we need within a realistic scope of work. With the client's direction in mind, I start to research videos out there in the web that may tell a similar story. If I've learned anything about creativity, it's that everything has been done before. It takes a lot of energy to recreate the wheel, so if you can find an example of something close to your vision, it's easier to put it across to the client. Thank you internet.
When it comes to putting together the document, which I attached below, I want to ensure I put in a little information about the client, which they can review and make changes as necessary, information about the target audience, some overarching themes, locations, examples, and even a shot list. For this particular project, I even outlined some of the documents that would be posted around the location, acknowledging that it will be an active recording space and model releases for anyone aiming to be on camera. Including those documents within an outline provides the client some time to review everything and pick out things that will and won't work for their particular space.
When it comes to selecting shots to show a client, I like to include links to the inspiring videos and capture screenshots to reference later as we are working on the actual production. I'm not trying to steal the images of the previous artist, but I can generally figure out their lighting, focal length, positioning, etc. and having a reference will let me get close and then give me room to make it my own.
One thing not explicitly outlined are rules or regulations for the locations in which we're shooting. That's because the business owner has already provided approval for the shoot, so I've redacted the page from here. On a production day, I would have any written approval, typically a property release, ready to show any security, police, or employees who may ask for it.
Overall, I see this document as something that will control the production and post production going forward. If a client includes a new idea, song, or creative direction in an email, I'll add it to the document and make sure it's referenced where and when that change occurred. It works out well because it keeps everything on track and everyone on the same page.
Take a look at the (mostly) complete document below and let me know if you have any questions.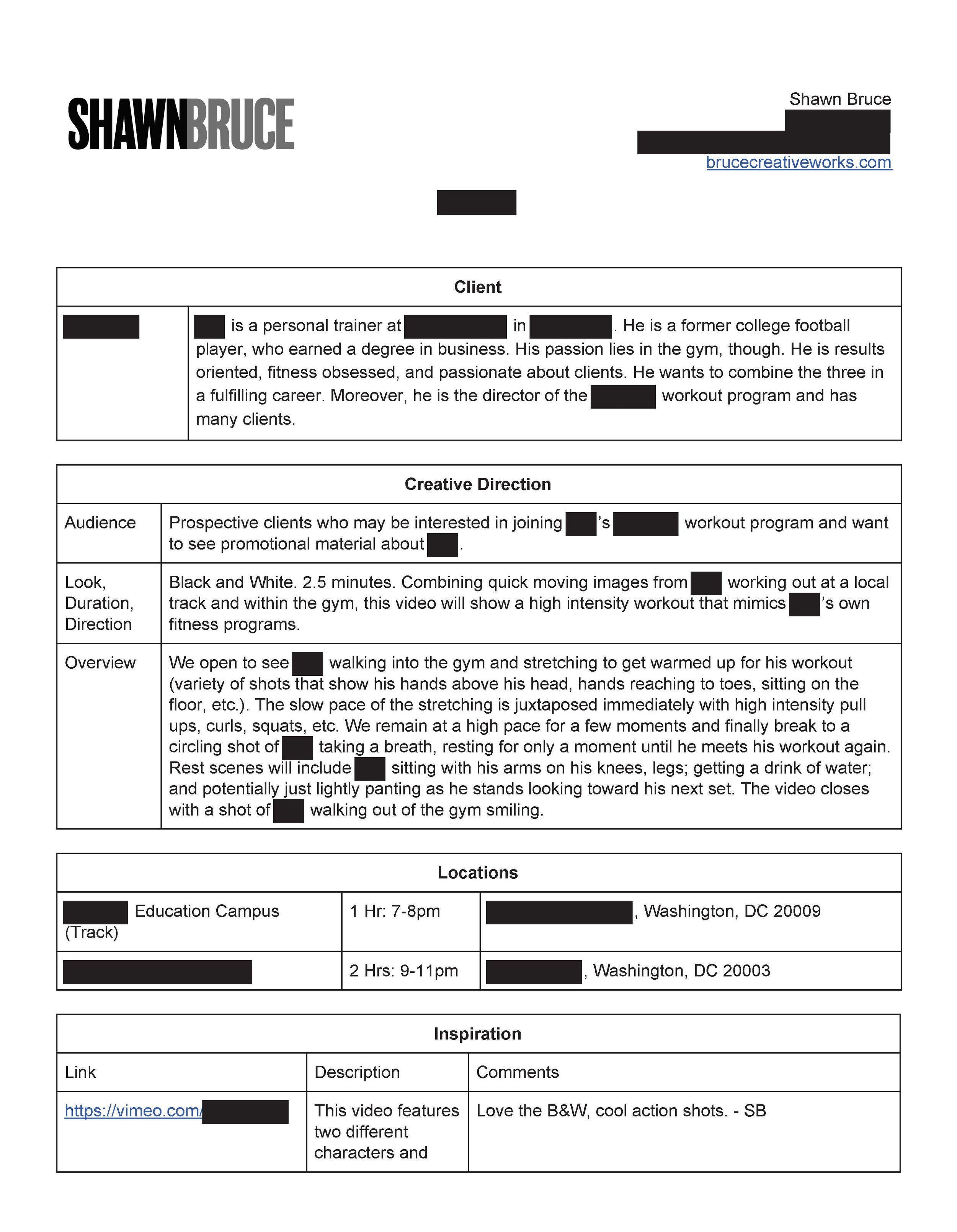 Mostly Complete Documents
They're redacted, but you'll get the point.